Cultural & Natural Resources
Based on the archaeological survey performed as part of the previous ABPP project in 2010, the primary and distinctive natural and cultural features existing in the Palmito Ranch Battlefield area are listed as follows:
Palmito Hill – highest point on the site
Tamaulipan Thorn Scrub Ecological Community – Texas Ebony, Mesquite, Huisache, Opuntia, Astrophytum, etc.
Rio Grande – U.S./Mexico International Border
Coastal plain - flat topography
Coastal marsh – wetlands
Coastal dune fields
Gulf of Mexico
Texas State Route Highway 4 – two-lane coastal highway
U.S. Border Patrol check point on State Highway 4
Privately owned cattle ranches
USFWS Lower Rio Grande Valley National Wildlife Refuge
Fort Brown
In terms of land ownership, more than 90 percent of the battlefield land is owned by the U.S. Fish and Wildlife Service (USFWS), a public entity, and operated as a wildlife refuge protected area. In addition to the federal land, public holdings also include Texas Parks & Wildlife Department's Las Palomas Wildlife Management Area located on the edge of the extended NRHP area just below the South Bay. Most of the battlefield land not designated as protected natural areas are agricultural lands primarily comprised of private ranches. During the project development, approximately 20 ranchers and private landowners were identified, including Mr. Zavaleta who owns the tracts totaling 20 acres on Palmito Hill.
Cultural Resources
A traditional military analysis called KOCOA (Key/decisive terrain, Observation and fields of fire, Cover and concealment, Obstacles, and Avenues of approach and retreat) was applied to Palmito Ranch Battlefield as an efficient tool to gain spatial understanding of the battle and help establish site boundaries in the 2015 ABPP grant project. The KOCOA process was developed by the U.S. military as a way to evaluate the military significance of terrain. The KOCOA analysis at Palmito Ranch was based on literature review and primary and secondary source research. During the archeological survey performed as part of the previous ABPP project (McWhorter et al., 2010), few man-made defining features were found at Palmito Ranch. There were no redoubts or forts with palisades made of earthen walls with wood and iron to be found associated with the battle. The defining features of this battlefield site that shaped both the location of the battle and the retreat are natural in origin.
The defining features of the battlefield are indicative of any physical, cultural, or natural elements mentioned in accounts of a specific battle and either are still extant or for which the archeological evidence can be found. Key terrain refers to any local feature that dominates the immediate surroundings by relief or by some other quality that enhances attack or defense. Examples include high ground with good observation and clear fields of fire, and transportation choke points such as a water crossing, defile, road junction, while decisive terrain includes ground that must be controlled in order to successfully accomplish the mission (ABPP, 2008; McWhorter et al., 2010). Examples at Palmito Ranch Battlefield include the key terrain of Palmito Hill (the highest point on the site from which the entire battlefield can be viewed), and decisive terrain of the Rio Grande (the last remaining trade route used by the Confederate not under Union control and also the U.S.-Mexico International Border). A more complete description of the KOCOA findings are contained in the 2018 Palmito Ranch Battlefield National Register Nomination prepared under the previous NPS grant to Texas Tech University.
Texas State Highway 4 runs east and west linking the city of Brownsville to the Gulf of Mexico terminating at Boca Chica State Park (Figure 21). The city of Brownsville is the county seat of Cameron County and serves as the only deep water port in the Rio Grande Valley region. Highway 4 is 24.4 miles in length and is one of 25 original Texas state highways first proposed in 1917. It forms the northerly boundary of the Palmito Ranch Battlefield site and provides access to the SpaceX launch site and is subject to closure on launch and testing days. Also located along State Highway 4 at Boca Chica is one of 34 permanent traffic checkpoints near the Mexico-U.S. International Border operated by the U.S. Border Patrol. The checkpoint has been in place since 1997. As traffic flows increase along the highway, along with the changing land-use patterns and the development of SpaceX's launch facilities, the current check station facilities may be expanded to accommodate additional agents and equipment.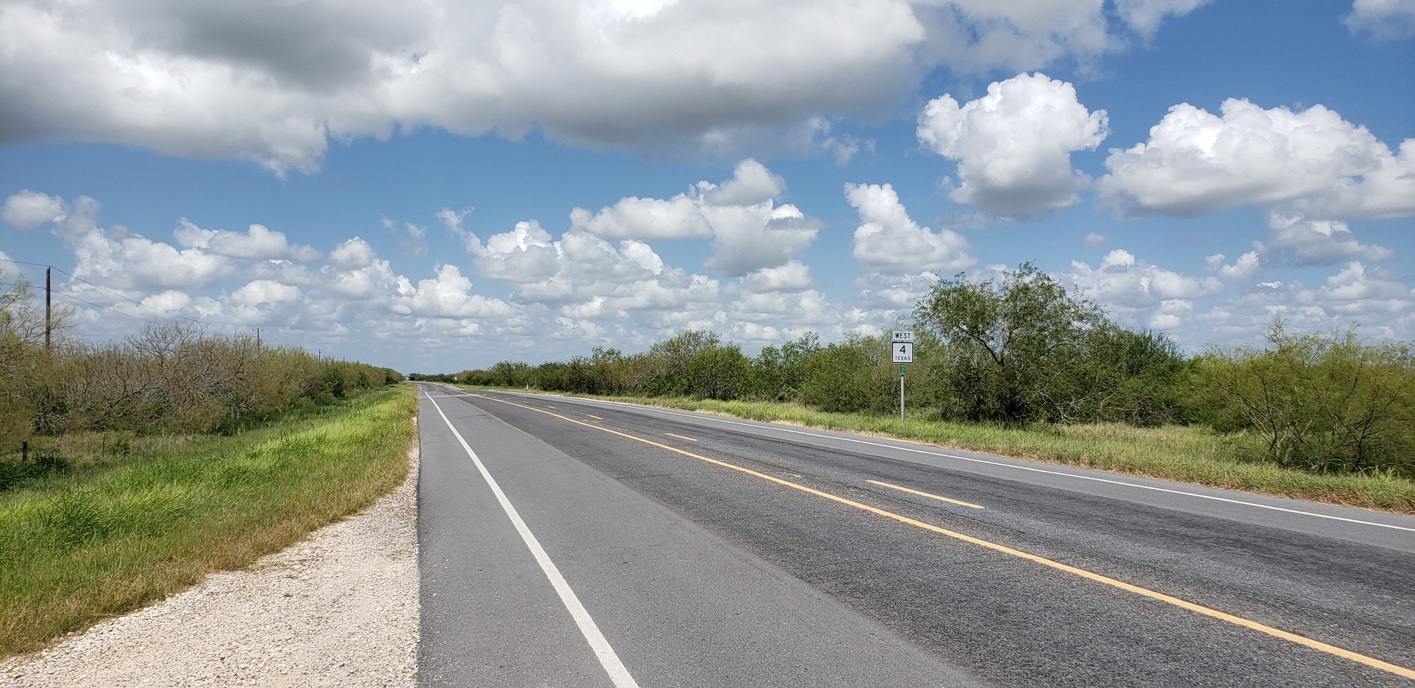 Natural Resources
The biotic community surrounding Palmito Ranch is interspersed with saline flats, marshes, shallow bays, and unique dunes of wind-blown clay known as lomas. The Battlefield's location along the Gulf of Mexico and its coastal ecology are extremely valuable natural resources that provide critical ecosystem services. Landscape planner and environmental expert William Marsh stated in his seminal text Landscape Planning: Environmental Applications (Marsh, 2011, p. 448), "Much of environmental planning has to do with edges—the lines and ribbons in the landscape where one environment gives way to another. No edge is more important than that between land and water." Estuaries lie along these important coastal edges and as such, contain some of the most biodiverse and productive ecosystems on the planet. They provide habitat for many types of plants, animals, and aquatic life and also serve as vital protective features through wetlands and salt water marshes that mitigate floods and cleanse water. Data from the EPA's periodic National Water Quality Inventory reveal a pervasive problem of poor water quality in the nation's water resources and in particular, the degradation of estuarine areas, wetlands, and near-coastal ocean areas. Collectively, they represent some of our most delicate ecosystems.
The southernmost tip of Texas, where the Rio Grande meets the Gulf of Mexico, is considered one of the most biologically diverse regions in North America (U.S. Fish & Wildlife Service, n.d.). Rich soils and a favorable climate support 1,200 documented plant species within the Valley that provide habitat for a wide variety of wildlife, birds and butterflies found only in this unique region. The region is also a key point of convergence for migrating birds as the northernmost stop for many species from South and Central America, and the furthest point for species from the Central and Mississippi flyway avoiding the Gulf of Mexico to the east and surrounding desert to the west. This refuge tract lying along the final few miles of the Rio Grande links coastal and river corridors and is staging ground for the endangered peregrine falcon. It is also habitat for several other federally-listed threatened and endangered species (Figure 22), including the Kemp's Ridley sea turtle (U.S. Fish & Wildlife Service, n.d.). The area is in the migration routes for various species of falcon, merlin, raven, and hawks and provides nesting homes for willets, horned larks, and Wilson's plovers.
In addition to their environmental benefits, estuaries like that found in the Palmito Ranch site are valuable to the economies of the coastal areas along their shores. They provide for recreation, shipping ports, fishing and tourism industries, and enhance land development. And, not only do estuaries occupy the edge between land and sea, they also sit at the edge between human and natural systems with each impacting the other. Therefore, a strategy to manage and protect estuaries must also consider the anthropomorphic influences of human development. Some of the threats facing the battlefield and its ecosystem from development pressures and various industries were described in previous sections of this document. Nearly all endemic terrestrial and aquatic species, both flora and fauna, are adapted to the stable patterns of infiltration, evaporation, transpiration, groundwater discharge, consistent hydrology, and stable water chemistry that are a part of our natural systems. These natural areas mimic sponges, receiving surface water, removing pollutants, trapping sediments, and facilitating groundwater recharge accomplished in a gradual, balanced manner.
Contemporary land-use practices, including row-crop agriculture, however, have dramatically altered ecosystems through the widespread conversion of rural lands to developed areas. Rural lands typically provide an important buffer between urban land and water, but once lost to urbanization, they are gone forever. This has been particularly acute in the Rio Grande Valley as 95 percent of native habitat has been cleared for agriculture or urban development since the 1930s (U.S. Fish & Wildlife Service, n.d.). The consequences are far reaching, as in just one example, loss of habitat is considered the single greatest threat to the survival of the ocelot with fewer than 50 cats remaining in the U.S., all residing in South Texas. Managing this wild cat is a top priority of the LRGV National Wildlife Refuge which is one of twelve federally-listed threatened and endangered species found in Cameron County (FWS, 2010). Eight of these twelve—including the ocelot, three types of sea turtles, the Gulf Coast Jaguar, the Northern
Aplomado falcon, South Texas ambrosia, Texas ayenia, and West Indian manatee—are considered "species in danger of extinction throughout all or a significant portion of its range."
The 90,000 acre refuge, a portion of which is located on the Palmito Ranch Battlefield site, functions as a critical wildlife corridor along the Rio Grande connecting isolated tracts of land held in private ownership, by non-profit organizations, state-owned parcels, and other National Wildlife Refuges.
It is not only the unique fauna found in the LRGV that is at risk. There are at least 24 plant species from 18 different families considered officially endangered by Federal and State agencies or rare enough to be of global conservation concern (Leslie, 2016, p. 22). In fact, most, if not all, of the native forests and subtropical brushlands in the expansive 1.1 million hectares (2.7 million acres) of the LRGV are threatened by ongoing human activities, particularly rapid population growth, agriculture, urbanization, and illegal foot traffic and subsequent border patrol activities, including road construction (Leslie, 2016, p. 26). Some federally-listed endangered, historically native plant species such as South Texas ambrosia and the star cactus have already disappeared completely from the battlefield area. Habitat loss and various modifications to the landscape play a major role in the decline of endangered species, both plant and animal. Additional threats include lack of genetic diversity caused by very small population sizes and in the case of the star cactus, overcollection and illegal harvesting by people. As described previously, threats to the battlefield from urbanization and other types of development are mounting. The preservation of the Palmito Ranch Battlefield site is vital to ensure it can continue to function as a natural buffer, ecosystem services provider, historical interpretive site, intact natural habitat, and recreational area. It presents a rare opportunity to preserve both U.S. history and a unique natural environment forever intertwined within the same site.
More Links for Palmito Ranch Battlefield