Current Physical Characteristics
Current landscape elements are valid approximations of the terrain and landscape present during the battle of Palmito Ranch.
The site is located largely in the Rio Grande floodplain with an average elevation of 10 feet. Clay dunes formed by windblown deposits (called "lomas") are also present and punctuate the low flats with topographic high spots. The generally flat landform characterizes the open nature of the battlefield and infers that there were few land obstacles in the flows of approach during the battle. Along with the slight elevation change, the site also includes ranches, hills, and prairie grasslands that remain largely unchanged. The battlefield's most prominent geographic feature is Palmito Hill which sits on the highest point at approximately 35 feet in elevation at its summit. It is located on the southern boundary of the battlefield along the Rio Grande. Palmito Hill served as a strategic observation spot with sweeping views across the battlefield's expansive landscape. Troop routes and positions are relatively easy to identify based on the site's excellent condition.
Within Palmito Ranch battlefield (41CF93) are a number of Civil War era ranch sites, including Tulosa Ranch, Palmito Ranch, White's Ranch, and Cobb's Ranch. Based on a surface examination of the ranch sites by the Department of Antiquities Protection of the Texas Historical Commission, and information provided by Charles Morris (an avocational archeologist and metal detector user), preserved archeological deposits in each of these areas relate to the settlement of the Lower Rio Grande valley. The types of artifacts observed on the ranching sites include such items as English, American, and Mexican ceramics and bottles, nails, metal tools, and handmade bricks, along with evidence of structural remains at Tulosa Ranch.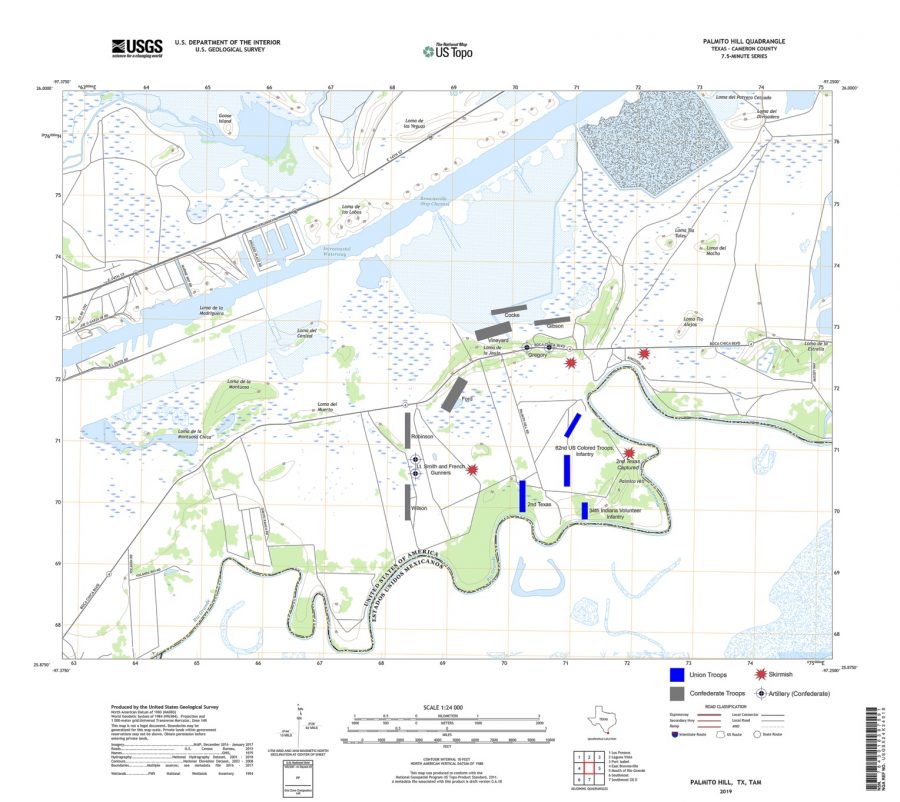 More Links for Palmito Ranch Battlefield